About Us
---
ABOUT THE CANUCKS FAMILY EDUCATION CENTRE (CFEC)
The Canucks Family Education Centre (CFEC) operates in partnership with the Canucks for Kids Fund, Britannia Community Services Centre Society, Vancouver School Board (Britannia Community Secondary School, Britannia Community Education, South Hill Education Centre), Burnaby School District (Edmonds and Maywood Community Schools, Burnaby C&CE-ECE), Frontier College, CAPC (PHAC), and many other programs and service providers. The Centre opened October 3, 2002.
The primary goal of the Canucks Family Education Centre is to provide a seamless system of quality family literacy and early learning programming for children, youth and adults.
The mandate of the Canucks Family Education Centre is to positively impact low literacy levels on Vancouver's Eastside and other locations throughout the Lower Mainland by providing a co-coordinated, comprehensive, integrated-services approach to family literacy and lifelong learning.
This integrated-services approach has two main purposes: i) to develop collaborative relationships between existing service providers and, ii) to share resources, knowledge and expertise. Services are integrated with the following characteristics as priorities: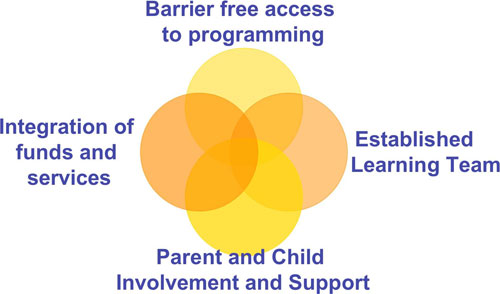 CFEC'S APPROACH TO LEARNING
CFEC is a school and community-based family education centre that provides meaningful opportunities for children, youth and adults to learn together. Our programs address school transitions; they are barrier-free (with universal access); and welcome participants of all literacy levels and language abilities. We provide personalized learning opportunities and work with parents and children to build on their knowledge and skills.
WHO DO WE WORK WITH
We work with parents and extended family members who are interested in improving their English and/or parenting skills. This includes participants whose first language is English, as well as English language learners - including new immigrants, refugees and refugee claimants.
WHY WE DO THIS WORK
We address the gaps in services that stop parents and families from succeeding. When we work with existing service providers, we maximize our shared human, financial and knowledge resources, as well as establish important connections between the families, the school and the broader community.
WHY PARENTS COME TO CFEC
Parents come to CFEC for a variety of reasons. Many are looking for programs that offer one-stop educational support for their family – programs that include early learning opportunities for their children and English language and/or high school completion for themselves through South Hill Education Centre (SD39) or Burnaby Community & Continuing Education (SD41). Our programs are accessible (barrier-free, with a convenient location and time), inviting (a comfortable space with welcoming staff and fellow parents to connect with), and safe (where mutual respect is practiced).
ADDITIONAL PROGRAMS & SERVICES
We provide opportunities for volunteers and practicum students from Frontier College and other education institutions to work in one of our three locations.
We provide opportunities for leadership development within our parent groups and, where possible, we hire parents to deliver aspects of our programs.
We provide opportunities for certification through our Early Childhood Education program (a partnership with Burnaby Community & Continuing Education, SD41). More than 75% of our current students are working in the ECE field in some capacity but require a full ECE certificate to improve their knowledge and skills, and to increase employment opportunities.
CFEC also conducts on-going research. Beginning in 2005 we undertook a 3-year research project to look at the impact our Partners In Education (PIE) program had on the parents and service providers we work with (results can be read here).
FURTHER INFORMATION
For more information about CFEC and the programs we operate, please contact Founder and Executive Director, Jean Rasmussen.